Domestic Violence and Abuse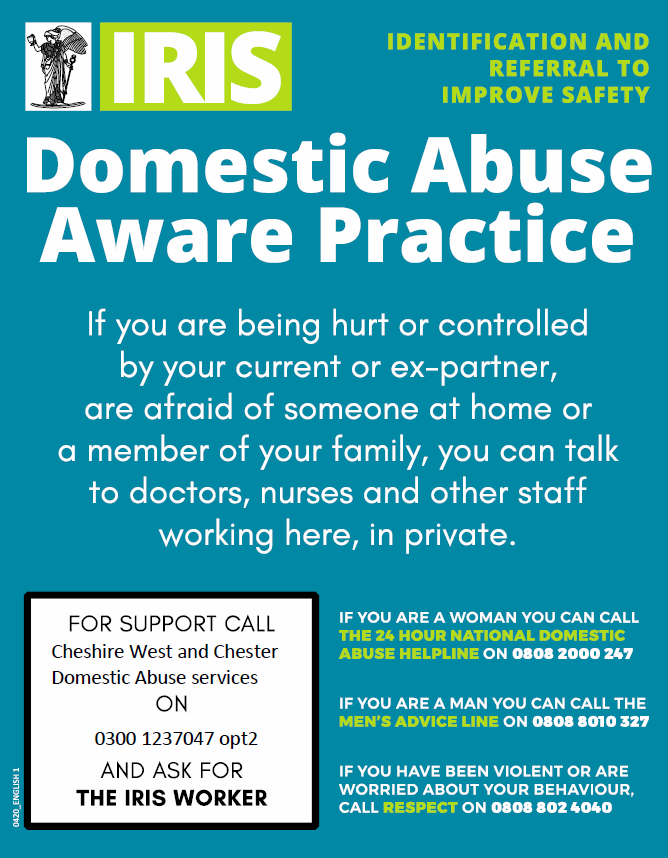 People have the right to be safe in their homes and relationships. No one, whatever their gender, sexuality, age, culture, race or disability should suffer domestic abuse.
Domestic violence or abuse can be physical, sexual or emotional. This can include financial and economic abuse, coercive and controlling behaviour. It can affect the whole family. Children are affected by seeing or hearing it as well as suffering abuse themselves.

Has your partner or family member:
Called you names and made you feel bad about yourself?
Made you afraid by threatening you or your children?
Behaved violently towards you?
Stopped you seeing your friends or family?
Kept you without money?
Caused you to fear for your safety?
Followed or texted you constantly?
The staff in your practice are trained about domestic abuse and specialist workers are available to support you. Your practice is an IRIS practice. You can talk to doctors, nurses and other staff working here if you are being hurt or controlled by your current or ex-partner, are afraid of someone at home or a member of your family.
You can also contact 0300 123 7047 option 2 (during office hours) and ask to speak to your local IRIS Advocate Educator. Alternatively you can call the national 24 hour domestic abuse helpline on 0808 2000 247.
Online security: if you're worried about someone knowing you have visited this website and other domestic abuse pages from your computer please visit womensaid.org.uk/cover-your-tracks-online/
Are you living in fear of your partner or family member?
you are not to blame
you are not alone
you can get help
you are already a survivor
you can get your life backperson who is hurting you but you can take
Police and support services remain available. If you are in immediate danger, or suspect someone else is, call 999. If you are unable to talk, call 999, listen to the operator and then either press 55 on a mobile, when prompted, or wait on a landline to be connected to the police, who will be able to help.
If you're worried you, or someone you know, may be experiencing domestic abuse:
The Freephone 24-hour National Domestic Abuse Helpline run by Refuge offers support for women: 0808 2000 247
The free Respect Men's Advice Line offers support for men: 0808 801 0327
Galop's free National LGBTQ+ Domestic Abuse Helpline offers support for LGBTQ+ people: 0800 999 5428
The free Respect Phoneline offers support for men and women who are harming their partners and families: 0808 802 4040
The free NSPCC helpline offers support for anyone worried about a child: 0808 800 5000
People have the right to be safe in their homes. All services listed above can offer help or direct callers to appropriate services. Additional contact details can be found here.
For local support visit: https://www.cheshirewestandchester.gov.uk/domesticabuse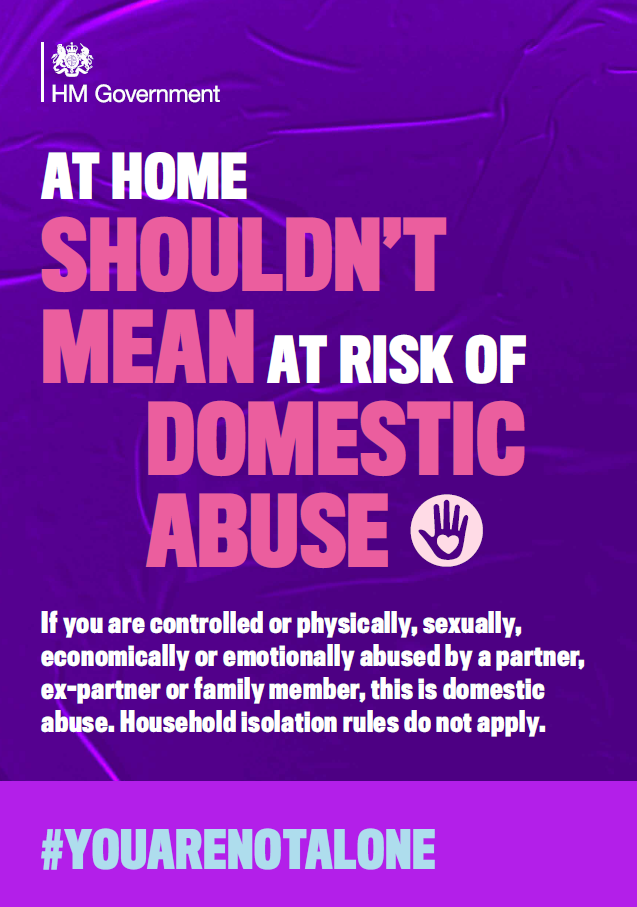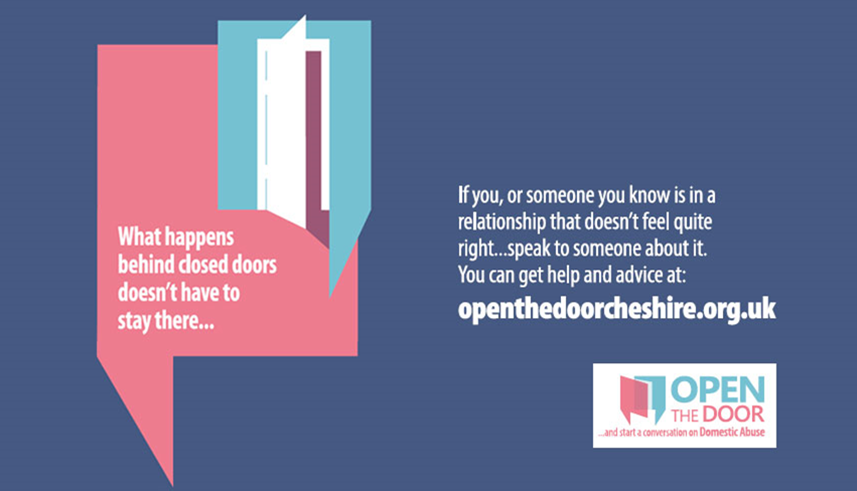 Are you, or someone you know, in a relationship that doesn't feel quite right?
Is one person in the relationship controlling, manipulative, abusive, or violent?
If so, this is an unhealthy relationshop and is defined as domestic abuse.
What happens behind closed doors doesn't have to stay there. This website has been designed to help you if you, or someone you know, is in relationship that doesn't feel quite right.
Cheshire is opening the door on unhealthy relationships to bring domestic abuse out into the open.