If you have symptoms associated with coronavirus including a new continuous cough, a high temperature, or less of sense of taste and/or smell, you are advised to stay at home for 7 days. Do not book a GP appointment or attend your GP practice. If you live with other people, they should also stay at home for at least 14 days, to avoid spreading the infection outside the home.
If your symptoms are serious, or get worse, NHS 111 has an online coronavirus service that can tell you if you need further medical help and advise you what to do.
Only call 111 direct if you are advised to do so by the online service or cannot go online.
For the latest COVID-19 advice please visit www.nhs.uk/coronavirus.
What is Patient Access?
With Patient Access, you can now view, book and cancel appointments from home, work or on the move – wherever you can connect to the internet. What's more, because Patient Access is a 24 hour online service – you can do this in your own time, day or night.
Patient Access is not just for booking GP appointments; you can also order repeat prescriptions, see test results and access your medical record.
Click on one of the headers above for more information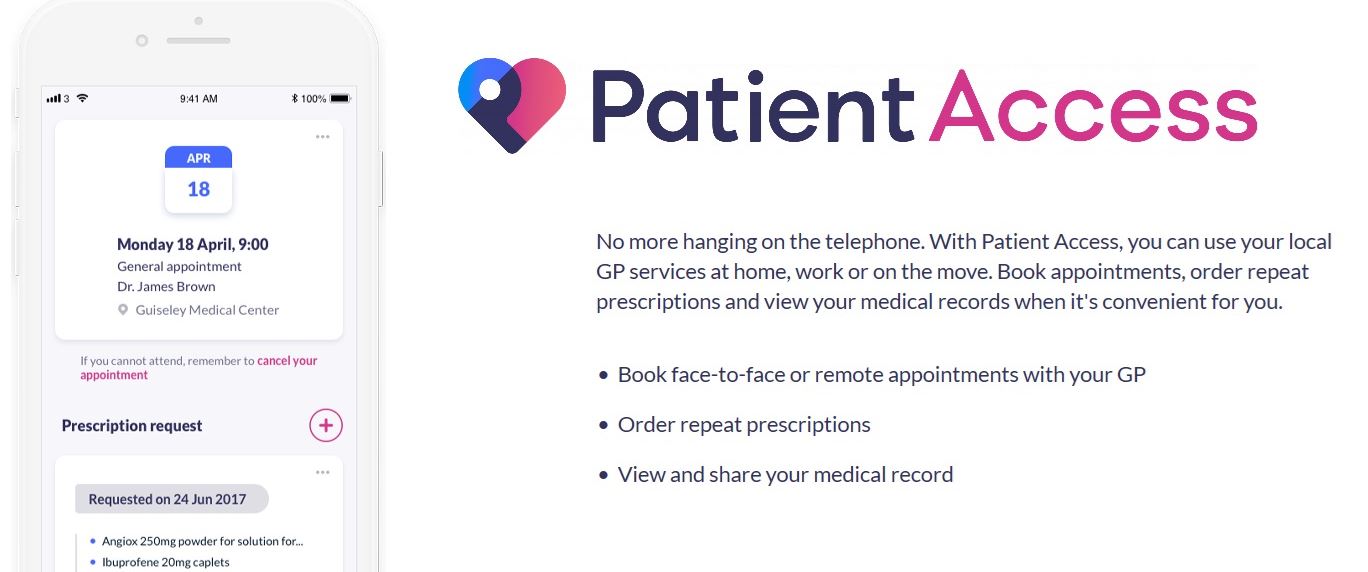 How do I request to register for Patient Access?
You can telephone or visit the surgery and let one of our receptionists know that you would like to use this service. The receptionist will enable the service for you there and then. The receptionist will usually be able to validate your identity by asking you certain questions. If they are unable to then you would be asked to bring in photographic proof of identity.
All newly registered patients are given full online access when they join the Practice. All newly registered children aged 0 to 11 have proxy access given to a parent.
For both of these you will receive an email containing your registration details, followed by two texts telling you about the service and how to register.
How do I register for Patient Access?
When you have a registration letter, use the steps below to set up your Patient Access account.
On the Patient Access sign in screen, select Register now.
Enter your personal details.
Note: The gender field is optional.
Enter your account details.
Note: The Mobile phone and Marketing fields are optional.
Accept the Terms and Conditions.
Select Create account.
The account is created. Next choose one of the following options:

Link your GP practice (to link to your practice).
Skip for now (you can always link later using the Navigation pane or the My Account section (available when you select your name)).

Your account has been created.
Link to your practice
Next use the registration letter to link to your practice.
Select Link Your GP Practice, at either the end of the registration process detailed above, or from the navigation pane.

Enter the practice postcode or name of where you are currently registered.
Select Search.
Select your practice from the list provided.
Select Continue.
Below the question 'Have you received a registration letter from your practice?', select Yes.

Enter the Linkage key (which is recorded on the registration letter).
Enter the Account ID (which is recorded on the registration letter).
Select Confirm.
Check your personal details and enter either your house number, flat number, or street number, then select Continue.
Note: The personal details must match the details held by your practice.
Confirm (enter) your password, then select Link Account.
On the confirmation screen, select Done.
Your account has been linked to your practice.
Online access for Children and Young People
Parents of children aged 0 to 11 can be given "proxy" access to their child's medical details and other online services. This is automatically given to the mother unless you request otherwise.
From age 11 to 16 a parent has to request this "proxy" access to be continued, with the child's consent.
At 16 any proxy access is automatically removed.
Is my information secure?
All information that is sent to your surgery via Patient Access is secure. Your personal details are encrypted and protected using the highest standard internet security, so it cannot be intercepted. Only you and your GP surgery are able to see this information.