Looking after you mental health
Having good mental health helps us relax more, achieve more and enjoy our lives more. We have expert advice and practical tips to help you look after your mental health and wellbeing.
CWP Crisis Line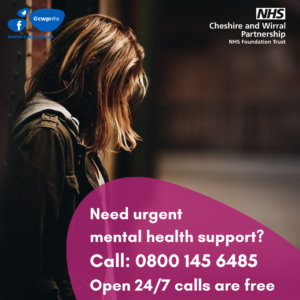 If your mental or emotional state quickly gets worse or deteriorates, this can be called a 'mental health crisis'. In this situation, it is important to get help quickly.
Please call 0800 145 6485 and our dedicated local staff will support you to access the help you need. The phone line is open 24 hours a day, seven days a week and is open to people of all ages – including children and young people.
You should still call 999 or go to A&E if you have an immediate, life-threatening emergency requiring mental or physical health assistance.
Samaritans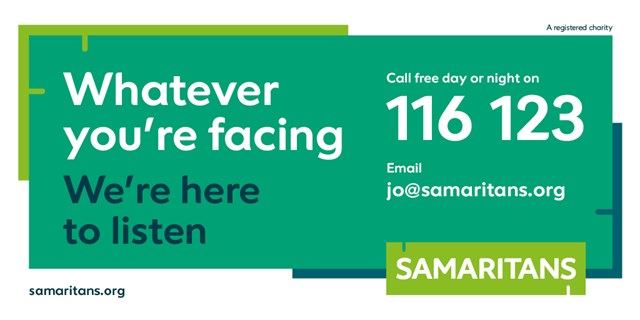 National Suicide Prevention Helpline UK

National Suicide Prevention Helpline UK offers supportive listening and information to anyone having thoughts of suicide, including family, friends and carers of those having thoughts. Call 0800 689 5652
Silver Cloud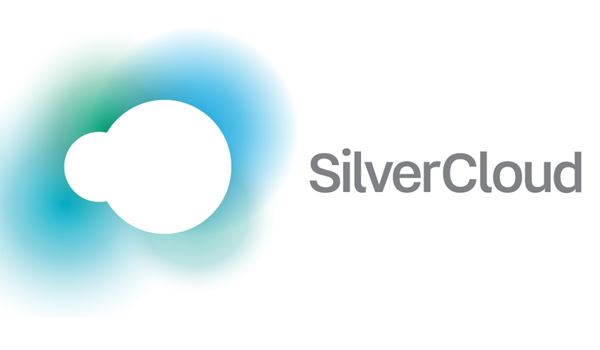 SilverCloud is an online self-referral option that will enable you to access a programme full of Cognitive Behaviour Therapy (CBT) techniques for anxiety and depression. It allows people to complete therapy in their own time, at a time and pace that suits them, whilst having regular weekly or fortnightly online reviews with a qualified mental health practitioner.
If appropriate for you, the SilverCloud programme can be tailored to your specific needs. It offers access to a number of different modules that provide information about depression and anxiety and tools and skills to manage these more effectively.
SilverCloud is particularly useful for individuals that have a busy lifestyle and would struggle to attend regular appointments during the day.
If you would like to self-refer, click here.
Andy's Man Club #ITSOKTOTALK
ANDYSMANCLUB are a Men's Mental Health Charity – Offering free-to-attend talking groups for men and challenging the stigmas around Male Mental Health.
They started off as one group in the small, northern town of Halifax. That first night 9 men turned up and spoke. There was a magic in that room that everyone knew had to be shared. They knew other guys across the country needed this same experience. They have worked tirelessly through Andy's memory to grow their clubs. They now have groups at almost 100 locations and continue to grow across the UK.
They could tell you how amazing they believe it is to see guys still with them and improving their life. They think though, you will hear it best from the horse's mouth…
The nearest club is in Wrexham at Yellow & Blue, 11 Henblas St, Wrexham LL13 8AE. Visit their Facebook page for more information: https://www.facebook.com/Andys-Man-Club-Wrexham-102482955724093
CALM
The Campaign Against Living Miserably (CALM) is leading a movement against suicide. Every week 125 people in the UK take their own lives. And 75% of all UK suicides are male.

CALM is the Campaign Against Living Miserably, for people in the UK who are down or have hit a wall for any reason.

Call 0800 58 58 58 (daily, 5pm to midnight)

Free, anonymous webchat with trained staff
Spider Project Chester - Café 71
Spider Project Café 71 is a safe community space for anyone struggling to cope in a crisis of any kind. They are a non-clinical service run by professionals and volunteers. Alongside supporting people through crisis, they offer a creative recovery programme with a wide range of different activities.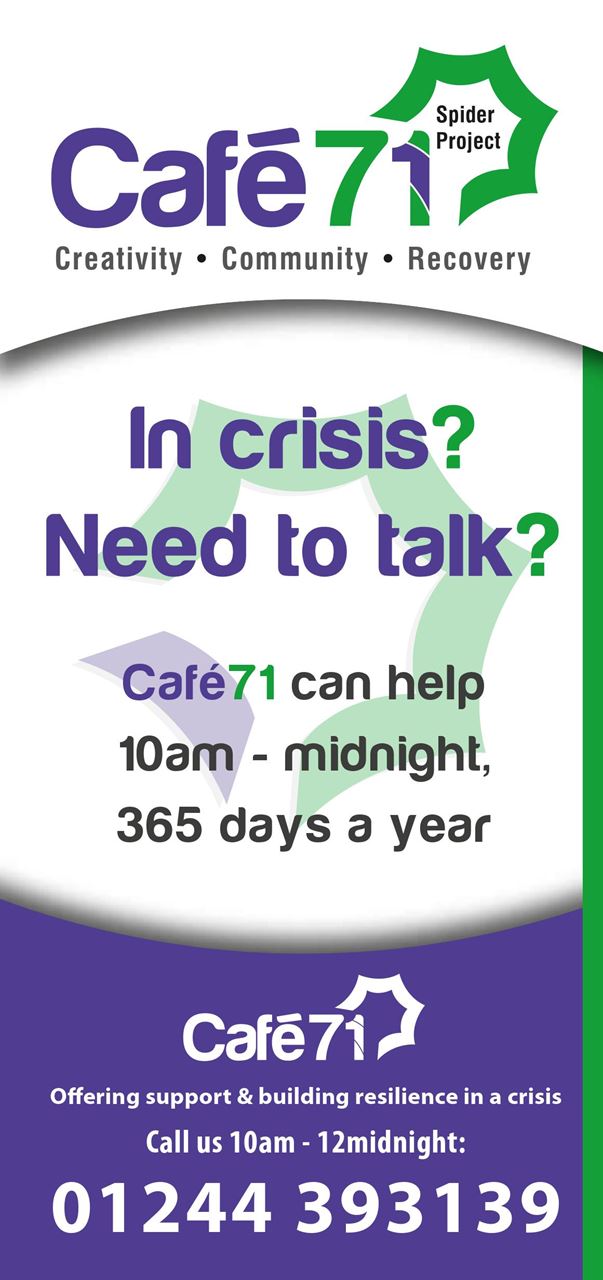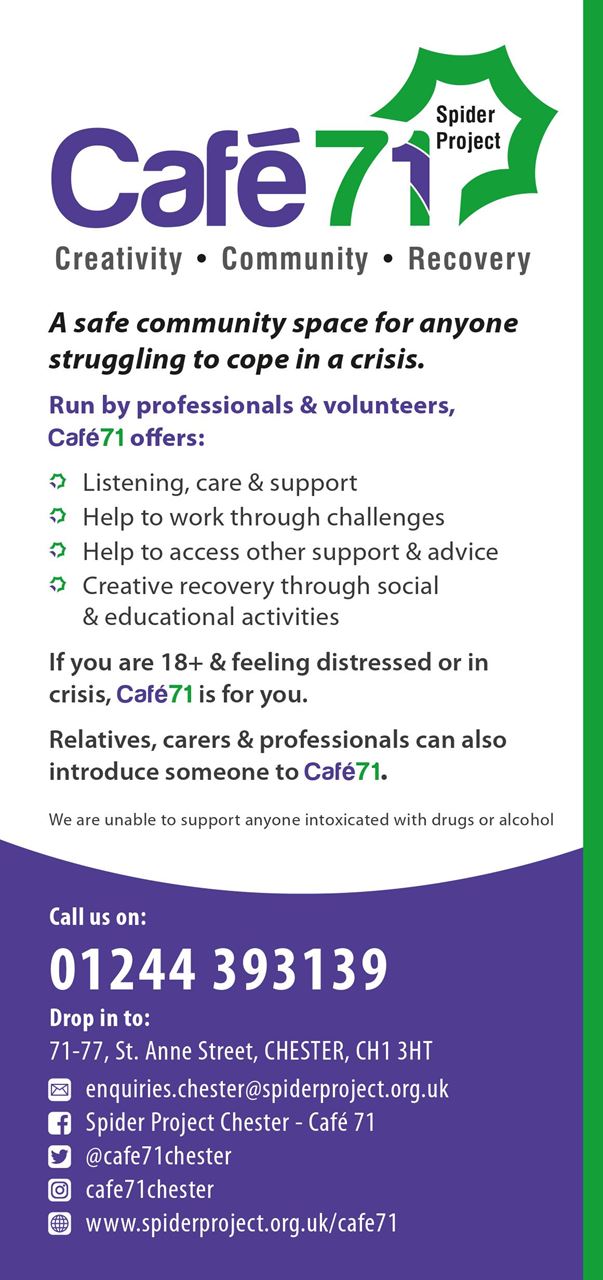 Every Mind Matters
Every Mind Matters are there to help you manage and maintain your mental health, as good mental health makes such a difference. It helps us to relax more, achieve more and enjoy our lives more.
We all go through ups and downs in life, and experience life changes that can affect our mental health.
Every Mind Matters gives you simple and practical advice to get a healthier mind and get more out of life – from how to deal with stress and anxiety, to boosting our mood or sleeping better. It will help you spot the signs of common mental health conditions, get personalised practical self-care tips and information on further support. You'll also learn about what you can do to help others.
Every Mind Matters has been created by Public Health England, with tips and advice developed with experts and approved by the NHS. It has also been endorsed by the Royal College of General Practitioners..
It only takes a minute to get started with our short free quiz to create Your Mind Plan with personalised tips and advice.
My Mind
MyMind is a website for young people, parents, and professionals working with children & young people. Including information on how to look after your mental health, how to access help and support, and details of support services in your local area.
My Mind is run by Cheshire and Wirral Partnership NHS Foundation Trust (CWP) Child and Adolescent Mental Health Service (CAMHS).
CAMHS are an NHS provided service that support young people with their mental health & emotional well-being. Children and young people may need help with a wide range of issues at different points in their lives, such as:
low mood or depression
feelings of worry or anxiety
problems with eating, or your relationship with food
self- harm/ thoughts of suicide
difficult feelings after a traumatic event.
Parents and carers can also be given advice around how to support their child with the difficulties they are experiencing.
Visit https://www.mymind.org.uk for more information.
Crisis support for young people

If you're under 35 and feel that life is not worth living any more, call Papyrus's HopelineUK from 9am to 10pm weekdays and 2pm to 10pm on weekends.
Call HopelineUK on 0800 068 41 41
Text 07786 209697
Childline
If you're under 19, you can also call 0800 1111 to talk to Childline. The number will not appear on your phone bill.